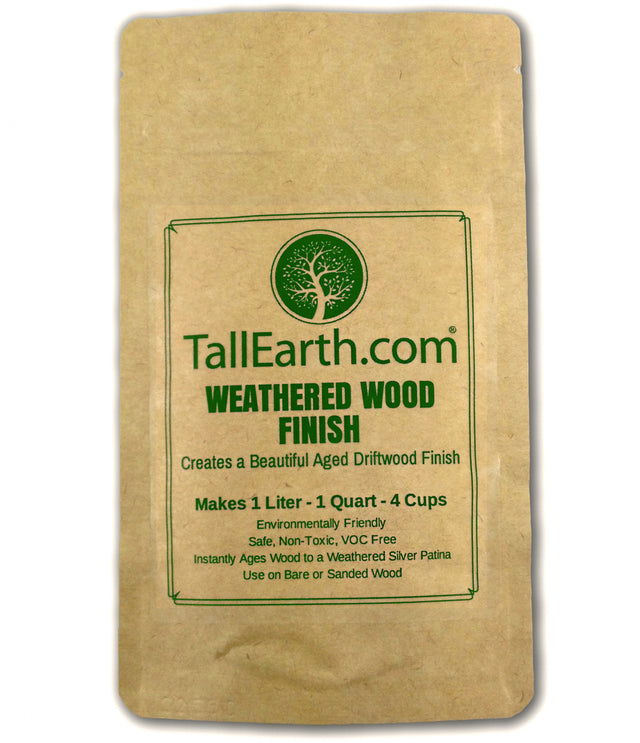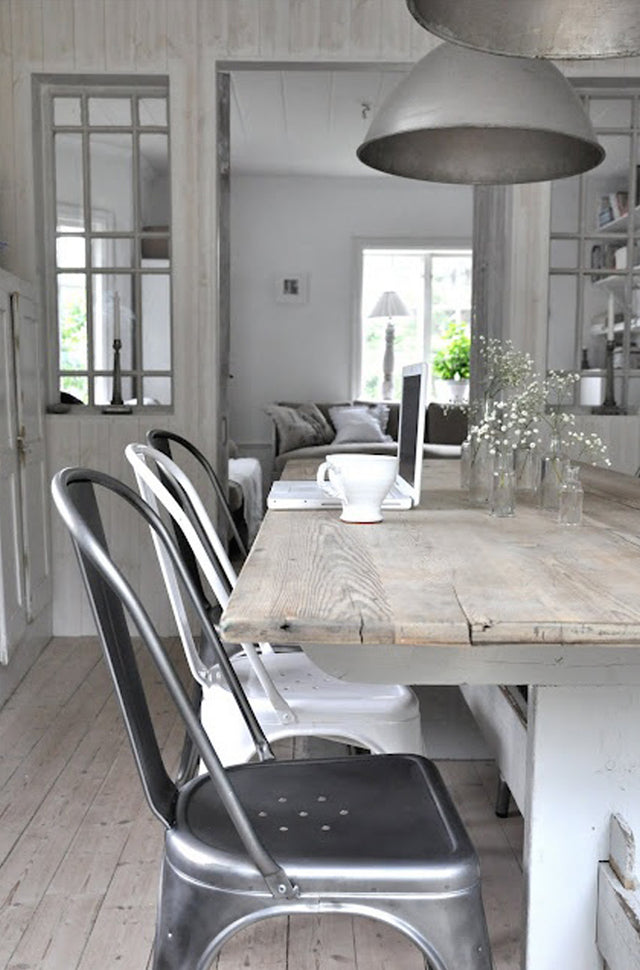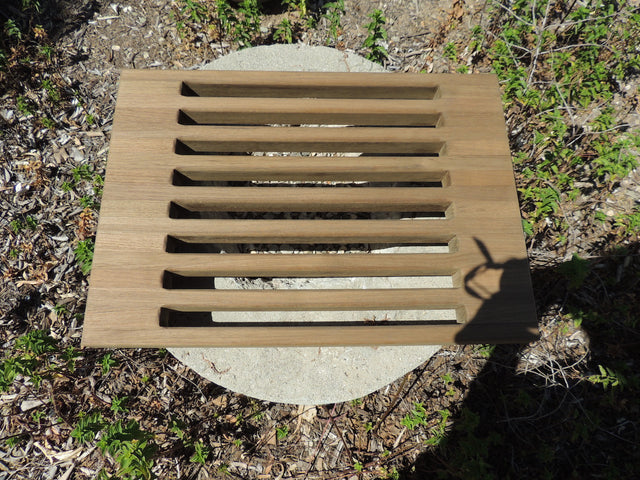 Weathered Wood Finish - Aged Driftwood Patina Stain
Creates a Beautiful Aged Driftwood Finish

Environmentally Friendly, Non-toxic, VOC Free

Use on Bare or Sanded Wood
Tall Earth Weathered Wood Finish is ideal for creating an aged driftwood appearance for many wood projects:
Furniture

Crafts

Curios

Carvings

Frames

and more!
This product is similar to our Eco-Safe Wood Treatment, but is a concentrated formula with a special additive to enhance and deepen stain effect. As a bonus, Weathered Wood Finish provides effective protection against rot, moss, mold, and fungus.
Mixes easily with water

Makes 1 Quart (1 Liter or 4 Cups)

Coverage: 1 Quart size provides minimum 100-140 square feet/ 9-12.5 sq meters of coverage, 3 Quart covers 300-420 sq ft/ 27-37.5 sq meters

Natural source materials

Works on indoor or outdoor projects - framing, fences, decks, siding, furniture, etc.

Leaves no harmful residue in soil or water

Proudly manufactured in Canada using sustainable resources

Apply with brush, roller, spray or by dipping

Mix only what you need, save the rest for another project (guide included)

No waste, dry powder stores indefinitely

Complete Satisfaction Guaranteed

Detailed instructions for application and use included in package
What is Weathered Wood Finish™?

Weathered Wood Finish™ is a product created specifically for artists, designers and crafters. It is an easy-to-use wood stain that instantly gives wood a weathered, elegant aged look. It is perfect for giving your wood project the look it needs for a barnwood, rustic, or country home interior design. It also has naturally protective properties that increase the lifetime of the wood. The staining effect gives a nice silver or silver-brown aged finish, depending on wood type, allowing artists designers and crafters to achieve a patina finish that enhances the natural beauty of wood.
Is wood treated with Weathered Wood Finish™ safe?
Weathered Wood Finish™ is non-toxic, VOC free, environmentally friendly, children & animal friendly, garden, groundwater, & food safe. It's made from a proprietary mixture of naturally sourced materials, harvested and manufactured in accordance with sound environmental principles.
What are the recommended uses for Weathered Wood Finish™?
Weathered Wood Finish™ works on indoor and outdoor projects.
Artists, designers, and crafters have used Weathered Wood Finish™ on all sorts of wood projects, from interior design to theatrical set design and props, from furniture pieces to jewellery pieces, birdhouses and dollhouses. This finish is an eco-safe, non-toxic, VOC-free way for artists, designers, and crafters to get the weathered wood look they'd like to achieve for all their creative projects.
What is the difference between Weathered Wood Finish™ and Eco-Safe Wood Treatment™?
Eco-Safe Wood Treatment™ and Weathered Wood Finish™ are similar formulations tweaked specifically for their differing purposes. Weathered Wood Finish™ contains more colour-enriching elements, allowing artists, designers, and crafters to be able to play with layering and deepening the stain, and also with detail work, while Eco-Safe Wood Treatment™ contains a greater ratio of protectant elements to colour-enriching elements, for larger projects like fences and decks that will have more exposure to the outdoor elements like UV and rain, which help with deepening colour and unifying coverage.
How long does the staining effect of Weathered Wood Finish™ last?
Weathered Wood Finish™ penetrates into wood fibers and reacts with the natural tannins in the wood for a stain that will never fade, peel or flake off. The finish lasts for the lifetime of the wood.
What colour stain does Weathered Wood Finish™ give the wood?
Darkening and silvering of treated wood is the beautiful result of this unique product. Different wood species will respond with slightly different final colors, ranging from light or dark silvery gray to light or dark silvery brown. The product provides a silver to brown patina depending on wood type, with a soft sheen that instantly imparts an elegant, aged finish.
This stain is ideal for artificially aging wood, to weather or beautify, or match repairs to older wood. 

Pro-Tips
Use on bare, untreated or pressure-treated wood. No special surface preparation is needed. If wood is finished with a sealer or lacquer-type product, the old sealer will need to be removed by sanding in order to allow Weathered Wood Finish™ to penetrate wood surface. Remove visible glue.

Solution can be applied by brush, roller, sponge, sprayer or by dipping. Make sure to cover all surfaces well, especially rough or cracked surfaces, end grains and fresh cuts. Cover intended surfaces well.

Some wood species will not show an immediate change in color. Within 24 hours, the treated wood will have achieved most of its finished colour. Color will change and deepen over 1-2 weeks.

Different wood species will come to different final colours. Lighter woods like fir, pine, poplar and birch come to a lighter driftwood color, while oak and mahogany change to a deeper blue-gray driftwood colour. Color effects range from light or dark silver-gray and blue-gray, to light or dark silvery green-brown or silvery-brown.

Eco-Safe Weathered Wood Finish™ can be used to age finish of repairs to match original item, or to artificially age a wood project.

To deepen color, reapply Weathered Wood Finish™ after the initial coat has dried.

To produce a lighter color, and to reduce blue tones, add a pinch of baking soda into mixture.

You might want to start with a half-strength mixture to test the reactiveness of the wood. It's easy to reapply in order to darken the stain, but is difficult to lighten once stained.

Not recommended for particle board, balsa, parawood, rubberwood, or Malaysian oak.

Using a finish (linseed oil, urethane, wax, etc.) over top of this treatment may significantly darken the final color of the treatment. Be sure to test on an inconspicuous area first.

Product can permanently stain cement, so protect with a dropcloth or similar if using near cement and concrete.

Clean-up with soap and water. Weathered Wood Finish™ does not contain any environmental contaminants.

Extra product can be stored indefinitely in dry form. Mixed product can be stored in an airtight non-metallic container, like a glass mason jar, for about 3 months. For convenient storage mix only what you need for a project. It's 1.5 teaspoons per cup of water.